KITE SURF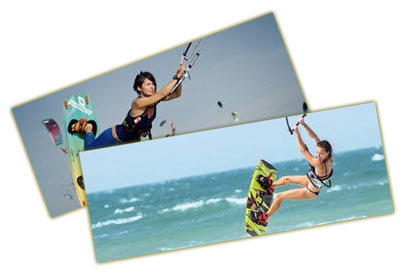 Kite surfing in Kalpitiya Sri Lanka One of the key places with all the right conditions to kite surf is Kalpitiya, located about 95 km from Colombo, this sandy peninsula with the Indian Ocean on one side and the Kalpitiya lagoon on the others offers a covered heaven for kite surfers. You can either carry your own gear or hire from the local club at an hourly rate. They will also have instructors to help beginners, word of caution though is to have training before you try it as it will save you from broken bones and costly medical bills. Once you've mastered it check out the little sandy islets around the mouth of the lagoon and maybe even run with the Dolphins
Kitesurfing season sri lanka – summer
Kitesurfing season sri lanka – summer
Wind speed: 15 – 25 kts
Wind direction: South West
Sea: Choppy, larger waves
Lagoon: Flat
Sea water color: Brownish (from dispersed sand)
Kitesurfing seas – Winter Season sri lanka – winter
December – March – Winter Season
Wind speed: 12 – 20 kts
Wind direction: North West
Sea: Flat, small waves only
Lagoon: Flat
Sea water color: Blue (Wind normally in the afternoon only)
WHITE WATER RAFTING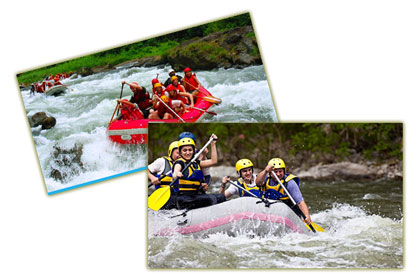 Experience White Water Rafting in Kithulgala with the picturesque Kelani River, covering 5 major rapids and 4 minor rapids. This activity is for anyone above the age of 10 years with safety gear, modern rafts, and a comprehensive safety briefing will be given by our white water rafting instructors beforehand. You could enjoy the jungle scenery and get thrills on the rushing rapids in your private tour with personalized attention from your dedicated guide.
SCUBA DIVING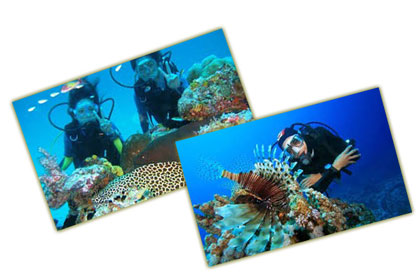 Most Fantastic Scuba Diving Sites in Sri Lanka .One of the favourite recreational activities among tourists .There are several dive sites along Sri Lanka's coastline, where scuba diving is mostly done , Hikkaduwa beach and Tangalla beach during Nivember to April and Nilaveli from April to September. While diving you will be able to be familiar with the vibrant, rich and breath-takingly beautiful coral reefs and fish
SURFING
Beaches are not just for sunbathing on, as any surfer will tell you.
Especially in Sri Lanka, one of the most reliable surf destinations in the Indian Ocean. Since the early 60's Sri Lanka attracts surfers from all over the world.
The best surf points in Sri Lanka are located on the South and East Coast with Hikkaduwa and Arugam Bay being the busiest, but there are many "secret spots" like Unawatuna, Ahangama, Weligama, Mirissa or Yala where you still can find uncrowded surf.
While there is a surf season in the South of Sri Lanka (November – April) and one in the East (May – October) you still can find a good swell outside the official seasons as long as you are flexible and listen to local advice.
DEEP SEA FISHING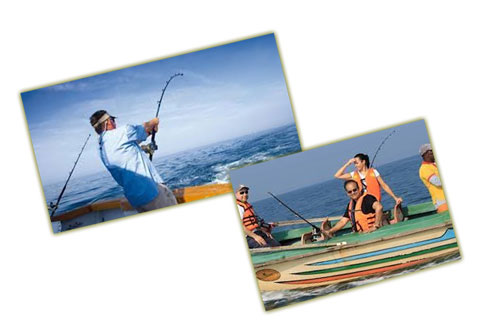 Enjoy Sri Lanka's best fishing excursions with our experts. Surrounded by the warm and nutrient-filled waters and filled with many rivers and lakes, Sri Lanka enjoys a wealth of angling opportunities. Inland fishing – in fresh as well as in brackish waters – and deep sea fishing are both available at different times of the year, depending on the season. Owing to the different climatic conditions in different parts of the small island, excellent fishing opportunities can be found throughout the year.
WHALES /DOLPHIN WATCHING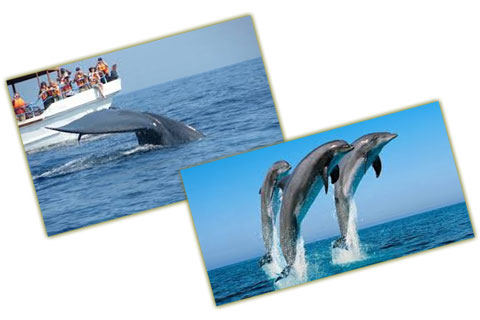 Sri Lanka is now widely regarded as one of the best places in the world to see whales. The island's shoreline lies unusually close to the continental shelf, the point when the ocean floor drops dramatically and where larger marine life is found, and so it does not take too long to reach these deep waters from Sri Lanka's western, southern and eastern coastlines. Whale and dolphin watching is possible from Kalpitiya, and Mirissa between December and April, and from Trincomalee and Pasikudah on the east coast between June and August, but Mirissa is widely thought of as the best place for whale watching in Sri Lanka.
SNORKELING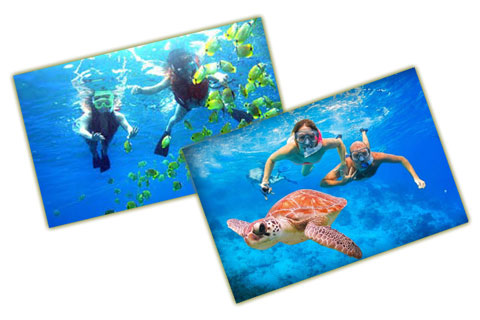 One of the best water sports in Sri Lanka is a Snorkeling; it will definitely trill your feelings. In Sri Lanka, most famous and suitable places to do snorkeling are Pigeon Island, Hikkaduwa Beach, and the Kalpitiya Beach. Above places have unique season to do snorkeling. Hikkaduwa and Kalpitiya Season are from Early-November to mid-April. Pigeon Island season is April to November.
WILD SAFARI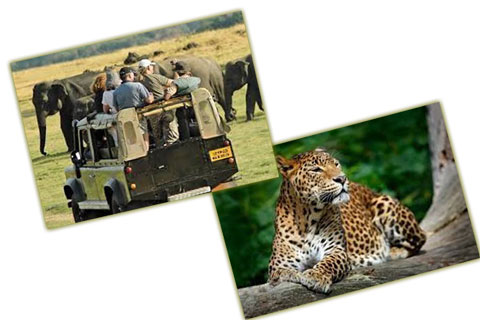 Safari in Sri Lanka on this unique wildlife tour which takes in five of the beautiful Tear Drop Isle's best national parks – Wilapattu, Wasgamuwa, Gal Oya, Udawalawe and Yala.Sri Lanka wildlife tours are becoming ever popular all over the world, and with good reason. One of the most biodiverse islands in the world, Sri Lanka provides a range in terms of that no country of its size can match. The country has several protected wildlife areas in which you can have an eclectic range of safari experiences. One of the biggest advantages of Sri Lanka safari tours is the fact that you may be able to do more than one safari tour – giving you entirely different experiences – within one day, in different parts of the island.
From Leopard Safaris in Yala National Park to walking safaris in the highlands of Horton Plains National Park, Sri Lanka wildlife tours are experiences you will remember for a lifetime. The first time you see a leopard in the wild is a heart-stopping moment. If you are lucky, you might even see Sri Lankan Sloth Bears and a range of primates, some of which are endemic to the island. If you are a bird enthusiast, wildlife holidays in Sri Lanka might be just what you need, as the island is home to a wide variety of birds, from waders to raptors, owls to jungle fowl.
RIVER SAFARI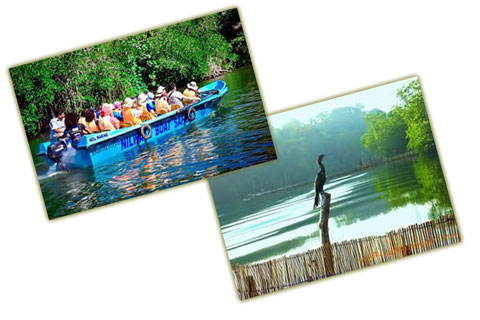 In the Southern region of Sri Lanka lies the Galle district. Balpitiya is a little town in the district and would be quite unimportant; except for the location of a river. The Madu River is very rich in biodivesity. It passes through the wet zone of Sri Lanka opening up into the large Madu Lagoon on its way to the Indian Ocean.Take a magical speed-boat ride down the beautiful Madu River, a wetland estuary spreading over 900 hectares of which 770 hectares is covered with water and inhabited with 64 islands. The boat ride is a wonderful way to take a closer look at this complex wetland ecosystem; a world heritage site protected by the Ramsar Convention on Wetlands being one of the last wetlands in Sri Lanka to contain a pristine mangrove forest.
Journey past massive mangrove forests, glide under the canopy of the forest tunnels as they curve playfully towards the watercourse. Take in the unique biodiversity of the Madu River and its surrounding islands that boasts of hundreds of birds, plants, fish and animals
VILLAGE SAFARI

Behold the traditional rice fields, vegetable farming, cultivation of yams and other crops, poultry preservation, beekeeping and much more. For those with adventure flowing blood, try climbing the tree houses of the villagers. Let the cool breeze stroke your face as you head to one of their small homes for a refreshing cup of herbal tea served with a piece of jaggery ( a sweet delight made from hardened palm sap), experience the true Sri Lankan hospitality fascinated with warmth and heartfelt smiles. Ride a bullock cart for a traditional travel experience that lasts approximately fifteen to thirty minutes through the rural village across scrub-lined mud trails while you enjoy the spectacular views. Enjoy a boat ride across the serene water enveloped with lily pads. The local boatman will make a hat using a lily pad and a lotus flower which you can wear for the rest of your tour! All that exploring does make you hungry, eh? Upon reaching the bank of the river you will be escorted to a house of a village local where you will get the opportunity of relishing in a delicious authentic Sri Lankan lunch, which will be cooked from the freshly grown vegetables of the farmer's crops.