Kitulgala Day Tour
Meet the representative of " SHA Vacation" and start your day tour to Kithulgala.
Kitulgala
from Kandy to Nuwara Eliya. It is one of the wettest places in the country. Kitulgala is also a base for white-water rafting, which starts a few kilometers upstream. White Water Rafting, is enjoyed in the white-waters as well as in other turbulent waters, brings about an unforgettable experience to the water sport enthusiasts. Kitulgala and Kelani River is most famous among local and foreign visitors for the adventure sporting. Other than the white water rafting, Kitulgala also famous for a number of adventure sports like confidence jump, Stream Sliding, Waterfall abseiling, Jungle trekking. And also Bird watching and cave explorations are popular activities.
You will be amazed to find out the range of beautiful wonders that you can witness and the number of activities that you can engage in just in one day. Below are the itineraries and the adventure activities that you will be able to witness and engage in while you are in Kithulgala.
Jungle walk
Being situated in the wet zone of the island, Kithulgala is blessed with a beautiful green forest where you can walk through and explore wonders. Here you will be able to witness various types of tress where some of them are endangered.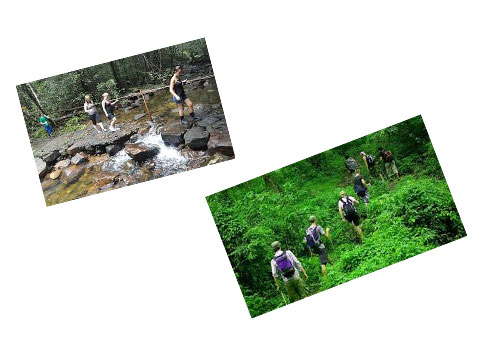 Bird watching
Moreover, this forest is the home for different species of birds and thus bird watching is considered as one of the most reasons why the tourists are attracted to this beautiful destination. The bird watching trails that are led down in the village and in the forest will guarantee you with witnessing magnificent endemic species of birds including the Sri Lanka Orange-billed babbler and chestnut-backed owlet. Apart from the birds, you will also be able to find reptiles including green pit viper and earless lizard and even a wide variety of butterflies.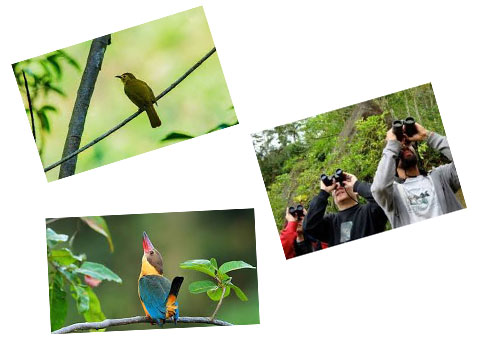 River bathing
Why say no to a bath in the flowing blue waters while you are here. The visitors who visit Kitulgala never miss a chance to have an unforgettable time having a splash and a dip in the cold waters. We value your safety, therefore you will always have to be very cautious when stepping in to the waters. So please be mindful to step in to the water from only the places reserved for bathing and have been so marked by the authorities as safe.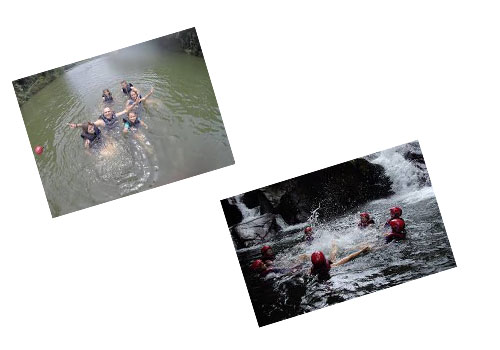 White water rafting
This is what Kithulgala is mostly famous for, white water rafting. White water rafting is a recreational outdoor water sport, where an inflatable raft has to be steered across a flowing river, handling different levels of roughness in the water. This is a great sport that requires unity and team work as the steering of the raft takes the effort of all the team members. The exciting journey of 5kms along the Kelani River which is renowned for its beautiful surroundings, which will guarantee you with an excitement filled magical adventure.The white water rafting instructors will be there to give you instructions beforehand as to how to manipulate the raft and what to do and what not to do. Moreover we will provide you with modern rafts and other required equipment along with personal protective equipment such as helmets and inflatable life jackets. So make sure you wear them before you embark upon the adventurous raft.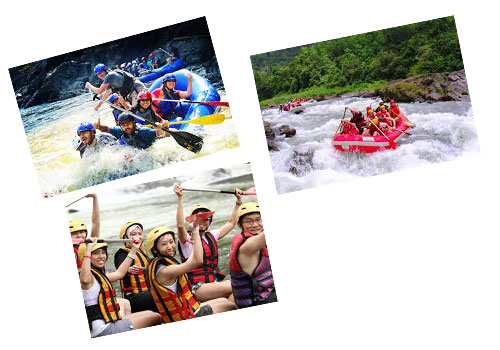 Flat water rafting – for kids
Being a family with small children doesn't mean that you shouldn't have some fun in the water, flat water rafting will ensure that you have an adventure filled day as well.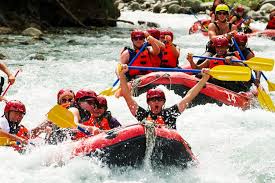 Mountain biking
The Mountain Bike rides uphill and downhill will give you a total different kind of experience apart from engaging in water sport activities. The bike rides will take you around and amongst the beautifully layered nature along the hill as you go. Moreover it will also take you through the village giving you the opportunity to look in to the village life of the people living with the nature.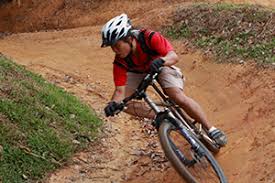 Waterfall jumps and waterfall abseiling
Another great adventure that you can engage in while you are in Kithulgala is waterfall abseiling. This is the best sport to test your confidence as here you will have to climb up a waterfall by the use of only a rope dangling from above with no support whatsoever to hang on to.The climb up the waterfall with running water under your feet and the beautiful natural scenarios around you will for sure leave you mesmerized, awed and intimidated. The climb will take up to three to four hours and we will offer refreshments at an additional cost if requested by you.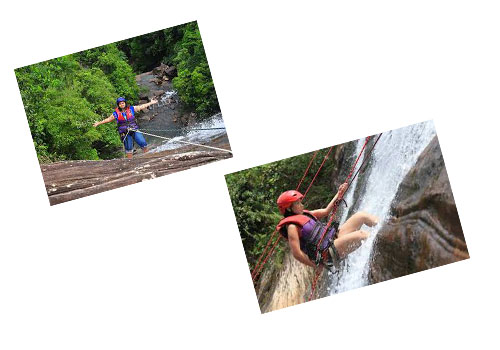 Typical Itinerary
Pick up from Colombo hotel or Negambo and transfer to Kithulgala.
Colombo to Kitulgala – 86kms/ 3 hours.
Airport to Kitulgala – 84kms/ 2.30 hours.
All above Activities included.
Lunch at Kithulgala Plantation Hotel.
Evening back to Colombo or Negombo.
Tour Includes
Pickup & Return location
All transportation service whole tour
Government charges + Tax
Bottle of Mineral water
Air-conditioned private transport
English speaking chauffeur-guide
All the highway & car parking fees
Tour does not Include
Meals
Entrance fees at Locations (as per sightseeing mentioned above)
Gratuities
TOUR PRICE – 60 USD ( 01 PERSON )
*30 USD (per additional person)