Galle Day Tour

Meet the representative of " SHA Vacation" and start your day trip to Galle. Galle, 119km from Colombo, is a major city situated at the tip of the South Western coast of Sri Lanka. Being a coastal area, it is quite hot and humid but has an abundance of beautiful beaches in every town that you pass while travelling from Colombo to Galle. Places you will visit
Galle Dutch Fort City
Galle is most famous for the fortress built in it by the Dutch who arrived in 1687 after the Portuguese. It is the largest remaining fortress in Asia that had been built by Europeans using their own architecture, mixing some of the South Asian traditions as well. The Fort spreads around 36 hectares of land covering the older section of the city.Galle town owns a wonderful collection of architectural masterpieces that you can see when walking along the streets. Most of these are remnants of the Dutch period such as old churches, houses, gateways. There are still streets that have Dutch names. The views of the town and the sea as they appear from the encircling walls of the Fort are also a must see when in Galle. Galle Fort is accredited as a World Heritage Design by UNESCO.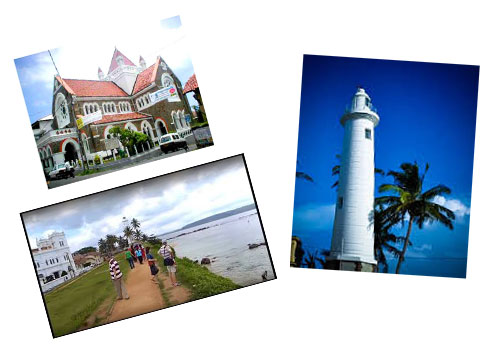 Madu River Safari
After that proceed to Balapitiya Balapitiya is a little southern town lying in marshy wetlands. The area is a high bio diversity zone that relies on the lagoon created by Madu River as it flows into the Indian Ocean. Your safari will take you on a ride down the river. You will get to see the dense mangrove forest that grows along the marshy banks of the river and the forms of wildlife that call the roots home. Your guide will also take you some of the larger free standing islands on Madu River. On one such island you will find an old Buddhist monastery. Cinnamon harvesting is the main employment of the people of this area.Another attraction of the safari is the famous fish massage. This 'massage parlor' is a hut standing on stilts in the middle of the river. A netted in area contains the 'massage fish'. You will be sitting on the deck of the hut with your feet in the water, while the fish work their magic.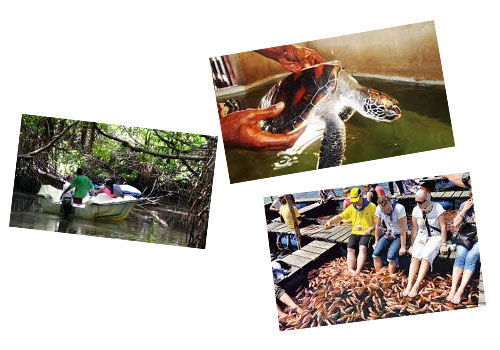 Turte Hatchery
operated by the Wild Life Protection Society of Sri Lanka. It was established in 1981 to protect Sri Lanka's turtles from extinction. The hatchery pays fishermen for eggs that they collect at night along the sandy beach. Visitors can see huge tanks filled with new born turtle hatchlings. After being fed, the baby turtles are taken to the sea and released when they are 2-4 days old, usually during the safer hours of darkness. Although October to April is the main laying season, some eggs can be found at Kosgoda throughout the year.The beaches of Sri Lanka are the nesting grounds for five species of marine turtles. They are the Green Turtle, the Leatherback, the Hawksbill, the Loggerhead and the Olive Ridley. All 5 species have been recorded to nest along specific areas of Sri Lanka's coast.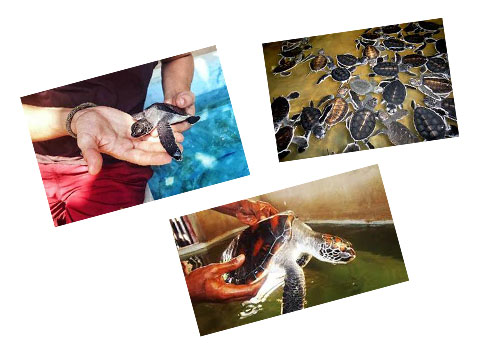 Typical Itinerary
Pick up from Colombo hotel or Negambo and transfer to Balapitiya Turttle Farms. – Approximately 2- 2 1/2 hours drive
After Turtle Farms proceed to Madu River safari place- ( 15 Minutes drive time from last point)
Next station Galle Dutch Fort . ( 1 Hour From Balapitiya ). After Lunch Visit Galle Dutch Fort site ( UNESCO World Heritage site) .
Transfer to Colombo or Negambo – Approximately 2 -3 hours drive (Express way)
Tour Includes
Pickup & Return location
All transportation service whole tour
Government charges + Tax
Bottle of Mineral water
Air-conditioned private transport
English speaking chauffeur-guide
All the highway & car parking fees
Tour does not Include
Meals
Entrance fees at Locations (as per sightseeing mentioned above)
Gratuities
TOUR PRICE – 80 USD ( 01 PERSON )
*45 USD (per additional person)